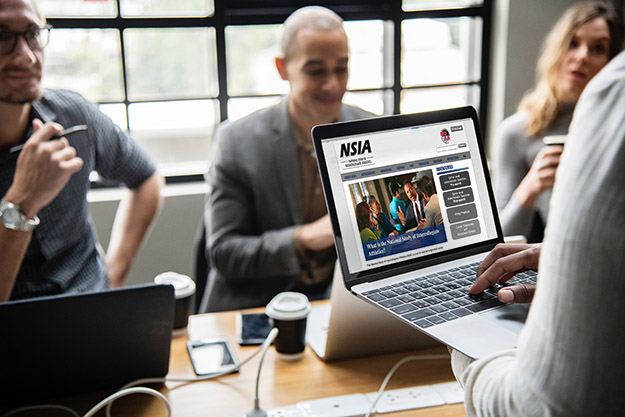 Inform Practice. Improve Experience.
Ensure Organizational Excellence.

The National Study of Intercollegiate Athletics (NSIA) is a set of national longitudinal inventories designed to better understand the organizational culture of intercollegiate athletics. The NSIA provides actionable data and insights to help inform institutional hiring practices, guide staff development, and improve staff experiences.
NSIA examines both individual and institutional factors affecting intercollegiate athletics by collecting, analyzing, and reporting micro- and macro-level survey data. The data are gathered from participating individuals, institutions and from national data sources.
Phase I is comprised of four inventories: (1) Senior-Level Administrator (Pre/Post) Searches, (2) Athletic Administrator Hiring Practices, and (3) Career Trajectories and Workplace Climate.
Hiring Processes

Senior-Level Administrator (Pre/Post) Search Inventories
Provide insight into the search/screen hiring process and assess the desirable characteristics of senior-level administrators.
Athletic Administrator Hiring Practices Inventory
Gathers information on the desirable characteristics of candidates for vacant athletic administrator (not coaching staff) positions and the standard hiring process for the department.
Together, these surveys help athletic departments better understand their hiring processes and gather climate data necessary for NCAA recertification.
Career Trajectory & Workplace Climate
Athletic Administrator Career Trajectories and Workplace Climate Inventory
Aims to understand how athletic administrators feel about the climate of their workplace and their long-term career trajectories.
These data are used to inform professional development opportunities for staff, improve organizational climate and inform the career choices of athletic department personnel.
The NSIA was created in 2011 and initially piloted in 2014 by Wisconsin's Equity and Inclusion Laboratory (Wei LAB) in partnership with Minority Opportunities Athletic Association (MOAA). In 2022, the project was moved to the Organizational Disparities Laboratory at Michigan State University College of Education.